Project requirements
With the four-way lurking and pulling AGV to automatically transport the finished products CE15 and CE16 to TPA18 to realize automatic feeding. Every time a full material trolly is transported away from the finished product point of the production line, an empty material trolley is also brought back while AGV is coming back.
The full load weight of the material trolley is about 800 KG.
AGV demand transportation times: 1 time in every 15 minutes for each finished product point.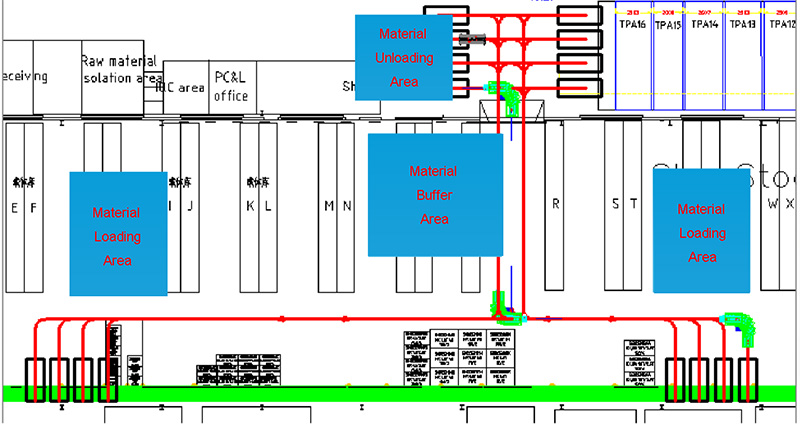 AGV Operation Process Description
Customer E-Leveling system sends out material demand information,
AGV Dispatching System receives demand information and dispatches AGV,
AGV takes the full material trolley from where the full material trolley is placed,
AGV arrives at the assembly line, puts down the full trolley, and takes the empty trolley along the way back,
AGV arrives at the empty trolley placement area,
AGV returns to a charging point for charging,
AGV stands by.
The photoelectric detection switch will confirm twice whether there is a material truck in the corresponding position.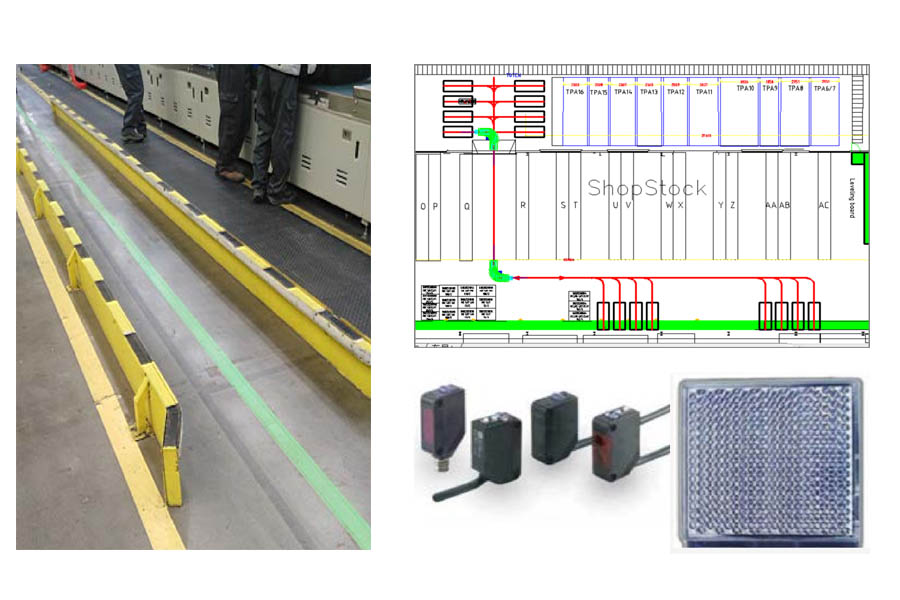 AGV Model for this Project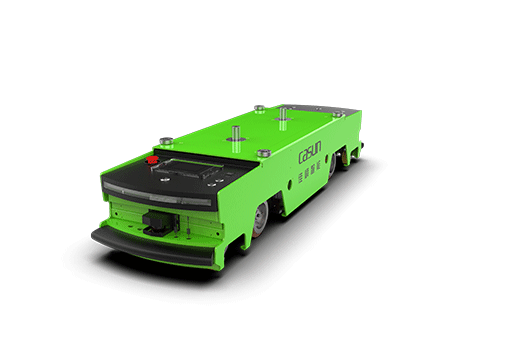 | AGV Type | Bidirectional lurking Automatic Guided Vehicle |
| --- | --- |
| External Dimension | L1550*W420*H290(mm) |
| Minimum turning radius | 800mm |
| Travel Direction | Forward, backword, turn left and right, branch |
| Driving Lifting Type | Automatic lifting |
| Control Method | PLC/AGV Moving Control Unit (Optional) |
| Guidance Method | Magnetic Tape Guidance |
| Communication Function | RF / WiFi |
| Driving Method | Differential Speed Driving |
| Driving Power Supply | DC 24V / DC 48V |
| Loading Capacity | 500KG / 800KG |
| Moving Speed | 0-45m/min (custom support) |
| Guidance Accuracy | ±10mm |
| Stop Accuracy | ±10mm |
| Working Type | 24 Hours |
| Gradeability | 2-3 degree |
| Charging Type | Manual Charging (optional automatic charging) |
| Battery | Lead acid battery / lithium battery, Maintenance Free Battery, Continuous discharge number>300 times |
| Safety Induction Range | ≤3m, Adjustable. The distance for emergency brake is less than 20mm |
| Human-machine Interface | The touch screen human-machine interface is adopted to easily set the parameter, site or alarm. |
| Working Environment | Indoor Temperature: 0-40 Celsius Degree; Relative Humidity: 5%-90% |
| Safety Protection | Front Obstacle Testing Sensor + Mechanical Anti-collision Mechanism |
| Safety induction range | Detecting range ≤3m, adjustable; Emergency braking distance: <20mm |
| Alarm | Sound and Lighting alarm |
| Design Life | >10 Years |
Basic Introduction of this Magnetic Strip Guided Automatic Guided Vehicle
AGV adopts a special driving mechanism and special control system with mature technology and stable performance, fully realizes the universality and modularization of system control, and the performance of each functional module is stable. Motors, navigation sensors, landmark sensors, and other core components all use high-quality famous brand components such as SICK, SIEMENS to ensure stable and reliable operation.
Drive Unit: differential driving method, DC brushless motor. The driving mechanism has a shock absorption mechanism to ensure that the AGV can run on uneven ground, so as to achieve the shock absorption effect of the vehicle and reduce mechanical damage.
Control Unit: The control part adopts a high-performance embedded system as the central control hub, supplemented by RFID technology, high-efficiency brake circuit, and magnetic induction tracking technology. It constitutes a complete sampling-processing-issuing instructions-executing instruction, such as a closed-loop control system.
Controller and Operation Panel: with perfect manual/automatic conversion function, it can operate independently of the transport line in the manual state; AGV is not affected during an emergency stop or normal line stop, and the AGV can work independently outside the transport line in manual state Operation; AGV has running sound and light prompts, alarm sound and light prompts, AGV working status and fault information, etc. You can set system parameters and modify system parameters through the display and operation panel.
An obstacle sensor and a buffer protector are installed at the front end of the AGV: the obstacle sensor can detect obstacles within the range of 0-180° in the direction of the AGV cart (distance 0–3M adjustable). When the obstacle is detected, the AGV will slow down and then stop (distance adjustable), and an alarm will prompt you to remove the obstacle. When the obstacle is removed, the AGV car will start automatically. When the obstacle touches the anti-collision mechanism, the AGV automatically stops immediately and the sound and light alarm will start. The operator must manually start the AGV after clearing the obstacle, and the AGV can continue to work.
Buffer Protector: a mechanical protection device that contains a trigger sensor switch. When the AGV is in direct contact with an obstacle, the mechanical protection device, and the electronic switch are triggered to automatically cut off the power. After the AGV stops, it must be manually restored before the button can be restarted to protect pedestrian safety.
The AGV is equipped with eye-catching signal lights and audible alarm devices to remind surrounding operators.
Emergency Stop Switch: The AGV is equipped with an emergency stop switch; after the emergency stop switch is pressed, the power of each drive motor is disconnected and the motor is locked, then manual intervention is required to start; the processing method is simple and fast, and the processing time is within 3 seconds.